Description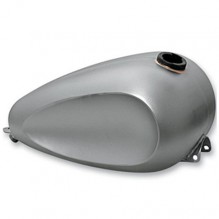 AUSTRALIA'S #1 SELLING MOTORCYCLE TANK REPAIR KIT SYSTEM!
The KBS Fuel Tank Sealer Kit contains everything you need to seal a tank of up to 45 Litres.
KBS Gold Standard Fuel Tank Sealer is a superior, single-component, ready-to-use fuel tank sealer. Gold Standard is specifically formulated to stop rust and corrosion by forming a tough, fuel impervious coating while simultaneously sealing small pinholes and weld seams.
Genuine Australian Made and Owned product!
For application instructions view our Fuel Tank Sealer Flow Chart and Gold Standard Tank Sealer Instructions
Watch YouTube: How to seal a motorcycle fuel tank

Features
Silver metallic permanent coating
Eliminates all rust & corrosion
Impervious to all standard fuels, Ethanol additives (E10) & most solvents (not recommended for E85 or race fuels)
Permanently seals pinholes & weld seams
Flexible to expand & contract
Non-flammable
Environmentally safe
Formulated and tested for Australian fuels
Kit Contains
This kit contains our KBS AquaKlean (a water-based, heavy-duty, cleaner/degreaser) and KBS RustBlast (a powerful rust remover/metal etch) to obtain a permanently sealed, rust-free fuel tank. These KBS prep products are formulated with a unique Oxygen-Block Technology which reduces the occurrence of flash rust by over 80% and extends rust-free storage times by leaving a temporary protective coating in addition to a zinc phosphate film.
1 Litre AquaKlean
1 Litre RustBlast
250ml Gold Standard tank sealer (500ml for LARGE kit)
1 pair of tough Nitrile gloves
Comprehensive instructions