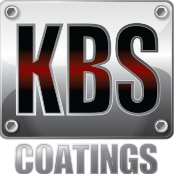 KBS Coatings will be CLOSED 29th March until 6th April. If you have a question or require technical support during this time please use the contact us form. Orders placed after midday (NSW time) 26th March will be shipped on 6th April.
Products
Fusion Tie-Coat Instructions
KBS Fusion is an all-purpose tie-coat ideal for promoting adhesion between multiple surface coatings (including applications of topcoats or primers over cured KBS RustSeal) in addition to priming bare metals such as steel, brass, aluminium, and most hard plastics.
PROTECTIVE RUBBER GLOVES AND SAFETY GLASSES SHOULD BE WORN AT ALL TIMES WHEN USING THIS PRODUCT.
DIRECTIONS
Recommended temp application is 16-35°C
Clean & dry all surfaces to be etched or primed. KBS AquaKlean is recommended if cleaning is required.
For applications over a freshly coated KBS RustSeal surface (a coating that is less than 6 hours old and dry-to-touch), no surface prep is required. Apply a single covering coat.
For applications over a fully cured KBS RustSeal surface, first sand surface with 320 grit paper then apply a single covering coat.
For bare metal surfaces, prepare with 320 grit sandpaper or prep with RustBlast before applying a single covering coat.
Shake aerosol can until mixing ball moves freely for a minimum of one minute. Hold nozzle 25-32cm from surface to be coated.
For all other cans, stir the contents of the can for one minute.
Allow 20 minutes for KBS Fusion to dry before applying a topcoat.